UPCOMING WORKSHOPS;


SCOTTSDALE, AZ | F
eb 17-21, 2020
scholarships available!
800-333-5707
SOLD OUT (waiting list available)

BONITA SPRINGS, FL | March 30 - April 3, 2020
Demo Monday March 30, 3-5 pm $20 open to the public, free to workshop students

SOLD OUT (waiting list available)

NANAIMO, BC | Sept 28 - Oct 2, 2020
Vancouver Island Art Workshops
SCOTTSDALE, AZ | November 16-20, 2020

scholarships available!
800-333-5707
..........................................................
YOUR GROWTH IS THE PRIORITY
Your growth as an artist will accelerate as we study great artists and unlock the universal secrets of image structure.

"The best workshop I've ever taken." – J.K.
At a primal level, it's this abstract image structure that moves us-- the use of line, shape, space, value, color, and texture. This applies to any style or genre of painting.
"Best workshop I've taken in 20 years of workshops." - D. B.
PAINT YOUR WAY.
In this workshop you can paint your way-- Abstract. Realism. Impressionism. Surrealism. Still life. Landscape. If you are using line, space, shape, color, value and texture, this course is for you.
Mastery of abstract visual language is the key to connecting with your audience in any style and genre.
Come be encouraged, inspired, and energized.
For me, the joy of teaching is helping you succeed and surpass your own expectations.
..............................................
SCOTTSDALE, AZ | Feb 17-21, 2020

800-333-5707
info@scottsdaleartschool.org
SOLD OUT
BONITA SPRINGS, FL | March 30 - April 3, 2020
Demo Monday March 30, 3-5 pm $20 open to the public, free to workshop students

SOLD OUT

...............................................
WHAT TO EXPECT
We'll focus on 3 areas:
1. Art - how to use image structure to move your viewers at an emotional level.
2. Audience - how to find and connect with your audience
3. Artist - how to maximize your own potential and overcome obstacles as a creative individual
There will be Powerpoint presentations, demos, exercises, and games combined with lots of painting time at your easel with personalized, one-on-one coaching -- it's all carefully designed to help you reach your personal goals.

- How masters in every style created IMAGE STRUCTURE
- How to design a COLOR HARMONY
- How to improve any painting instantly
- How to critique ANY style of painting
- The 3 subjects in every good painting
AUDIENCE topics include:
- How to find a gallery
- How to tell your STORY to your audience
- How to write an artist statement, cv, bio, and elevator pitch
- Web site mistakes to avoid
- How NOT to approach a gallery backwards
- Ways to use the double-edged sword of social media
"The best art teacher I have ever had." - J.L.
---
Image structure topics include:
LINE STRUCTURE Beautiful art has beautiful bones supporting the whole.
VALUE STRUCTURE Paintings that move us distribute light and dark to convey feeling.
COLOR STRUCTURE Great paintings, like great music, are a tension resolved by harmony.
..............................................................

You will not be taught to imitate my painting style.
Instead, you will be encouraged to explore, take risks, and become the best version of YOU.
I want to help you find your artistic voice, paint with more confidence, and enjoy more success.

...............................................................

Come, be encouraged and inspired in a fun, upbeat atmosphere and go home ready to create your best work yet.
- David
"By far the best workshop I've ever taken." - N.J.
---
We'll look extensively at master works from all genres and time periods.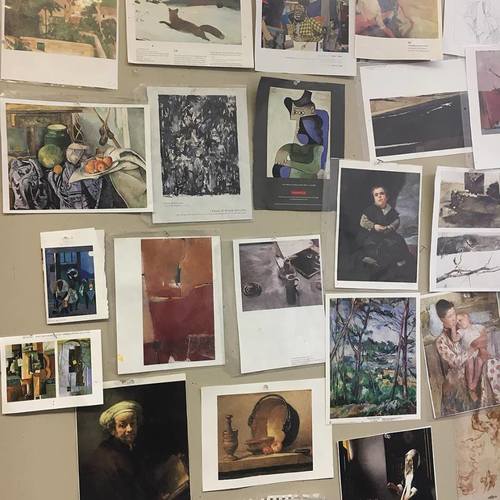 About David:
David graduated from Rhode Island School of Design in 1988. After a decade illustrating for clients like UPS, Wrigley's Gum, T.G.I. Fridays, and Tony's Frozen Pizza, he turned to painting full time in 1998, focusing on plein air landscapes.

Over the years he has painted hundreds of landscapes and still lifes along with commissioned portraits. David is also a children's book author/illustrator, with over 26 children's books published. (davidslonimpresents.com)

David relaunched his career in 2014 as an abstract painter, exhibiting with galleries in Boston, Jackson Hole, Scottsdale, Indianapolis, Chicago, and The Hamptons.
He and his wife, Bonnie, have been married 31 years. They have four adult children and several grandchildren.